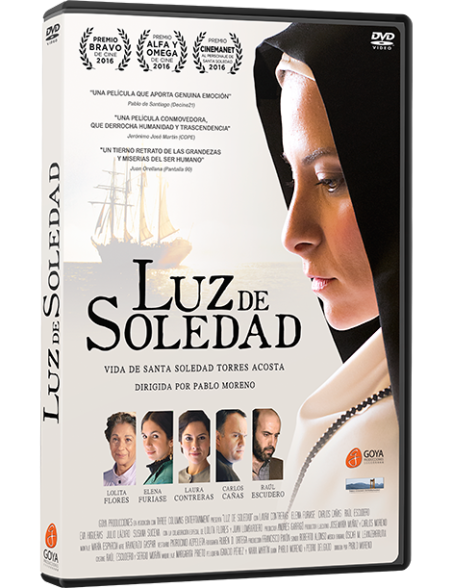  
Light of Soledad (DVD)
DVD LIGHT OF SOLEDAD The film narrates the beginnings of the Servants of Mary… read more
Movie not available in English (only subtitled version). To watch English movies, please press HERE
| | |
| --- | --- |
| | Full of humanity and transcendence |
Format:




Languages:


Subtitles:




Also avalaible online: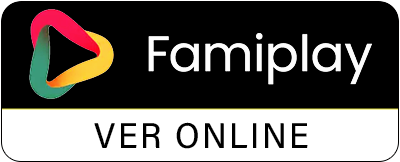 (Spanish language only)
TRAILER

DVD movie:
LIGHT OF SOLEDAD

REVIEW

DVD movie:
LIGHT OF SOLEDAD
| | | |
| --- | --- | --- |
| ARTISTIC AND TECHNICAL | | (Good) |
| FAITH AND VALUES | | (Very profitable) |
| RECOMMENDATION | | (Highly recommended) |
APPROPRIATE PUBLIC: Young people, family, everyone.
OUR OPINION: The charism of the Servants of Mary is to treat the sick person as if he were Christ himself, despite the offenses that he can make you. Spectacular biography of Saint Soledad Torres Acosta, and the congregation of the Servants of Mary, religious nurses (the first of Spain) who attend to the sick at night in their homes. It will teach you to love the sick person, whoever he is.
SYNOPSIS

DVD movie:
LIGHT OF SOLEDAD

Olga is an only daughter and she must take care of her father, Mr. Arturo, an irascible man of a hard character who suffers from illness. Exhausted by her job at the law firm, she needs someone to look after him at night and she calls the last person her father wants to see: Sister Inés, a nun, Servant of Mary.

The film narrates the beginnings of the Servants of Mary, a religious institution originated in Madrid in 1851 by inspiration of the priest Father Miguel Martinez and that Soledad Torres Acosta guided in its development and expansion until her death in 1887. These are difficult years in which Mother Soledad and her Servants of Mary are facing revolutions, epidemics and religious persecutions. 
Disponible Online en 4 idiomas
Luz de Soledad (español): 
https://encristiano.vhx.tv/products/luz-de-soledad
Light of Soledad (English): 
https://encristiano.vhx.tv/products/light-of-soledad
Luz de Soledad (português do Brasil): 
https://encristiano.vhx.tv/products/luz-de-soledad-portugues-do-brasil
Madre Soledad, Al servizio degli infermi (Italian) : 
https://encristiano.vhx.tv/products/madre-soledad-al-servizio-degli-infermi
Y también disponible en
(sólo español) 
https://ver.famiplay.com/es/video/luz-de-soledad
PRODUCT DETAILS:
Original title: Luz de Soledad
Number of discs: 1
Running Time: 107 minutes
Languages: Spanish
Subtitles: Spanish, English, French and Italian
Year: 2016
Rated:
Not recommended for children under 7 years.
System: PAL - Zona 0 (todas las regiones)
Director:
 Pablo Moreno
Cast:
 Laura Contreras, Lolita Flores, Elena Furiase, Carlos Cañas..
Awards:
• Mirabile Dictu International Catholic Film Festival 2017: best director for Pablo Moreno.
• Simón 2017 Awards: Best Interpretation for Laura Contreras.
• Bravo Cinema Award 2016.
• 2016 Alfa and Omega Cinema Award.
• CINEMANET 2016 Award to the character of Santa Soledad.

Data sheet
Search by content:

Religious

Search by subjet:

Biographies
Historical or religious event

Search by main character:

S. Soledad Torres Acosta

Language:

Spanish

Subtitles

English
French
Italian
Spanish

Search by format:

DVD

Sistem

PAL - All Areas / Regions
Specific References
EAN13

8426262606767