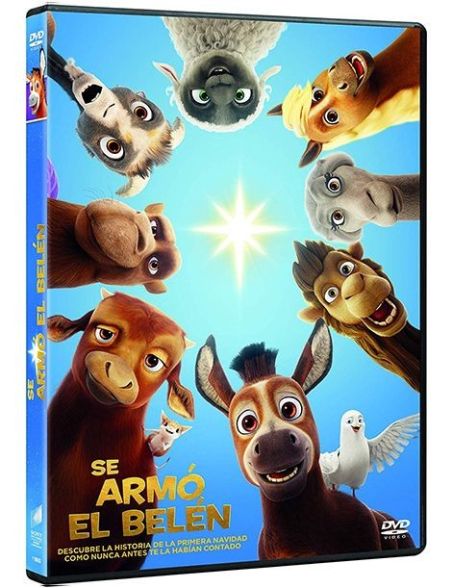  
The Star (DVD)
Movie DVD THE STAR
Bo, a small but brave donkey, wants a different life from his daily work in the village mill. Along with other eccentric animals, Bo and his new friends follow the Star in the biggest adventure of their dreams, becoming part of the greatest story ever told... read more
Formato:



Idiomas:





Subtítulos:




TRAILER

of the DVD movie:
THE STAR
OUR OPINION

of the movie in DVD:
"THE STAR" (THE STAR)
| | | |
| --- | --- | --- |
| ARTÍSTICA Y TÉCNICA | | (Muy Buena) |
| FE Y VALORES | | (Beneficiosa) |
| RECOMENDACIÓN | | (Muy Recomendada) |
TARGET AUDIENCE: Family, everybody.
OUR OPINION: The Star! is a film for the whole family which you cannot miss. Fun, entertaining, very well made, and that's the meaning of Christmas: the Birth of God. All the characters are great, and St. Joseph and the Virgin are cared with great respect, cheerful, very friendly, and attractive to all. One of the greatest movies that will help everyone, in a big way, to discover the meaning of Christmas.
SUM UP

 ot the DVD movie :
THE STAR

Bo, a small but brave donkey, wants a different life from his daily work in the village mill. One day, he finds the courage to free himself and joins Ruth, a lovely sheep, and Dave, a graceful dove with great aspirations. Along with three smartass camels and other eccentric barn animals, Bo and his new friends follow the Star in the biggest adventure of their dreams, full of laughter, becoming part of the greatest story ever told.

FICHA TÉCNICA:

Título Original: The Star
Género: animación, infantil
Número de discos: 1
Duración: 83 minutos
Idiomas: castellano, alemán, inglés, francés
Subtítulos: castellano, alemán, inglés, francés, holandés
Año: 2017
Clasificación por edades:
Autorizada para todos los públicos
Sistema: PAL - Zona 2 (Europa)

Director: Timothy Reckart
Guión: Carlos Kotkin, Simon Moore, Tom Sheridan
Director de fotografía: Animation
Producida por: Sony Pictures Animation / Franklin Entertainment / Affirm Films / Jim Henson Company
Distribuida por: Sony
País: México/EEUU
Premios: 2017: Globos de Oro: Nominada a mejor canción original/ 2017: Premios Annie: Nominada a mejor montaje y storyboard
Data sheet
Search by content:

For kids

Search by subjet:

Bible and biblical facts
Family, Society and Values
Historical or religious event

Language:

English
French
German
Spanish

Subtitles

English
French
German
Polish
Spanish

Search by format:

DVD

Sistem

PAL - Zone 2 (Europe...)

Liturgical seasons & Sacraments:

Advent
Christmas
Specific References
EAN13

8414533118682