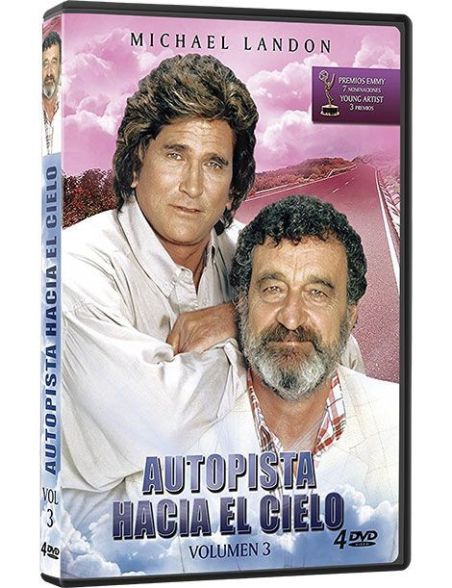  
Highway to Heaven (Vol. 3)
DVD Highway to Heaven (Vol. 3)
Michael Landon (Little House on the Prairie) and Victor French star in this family favorite hit series Highway to Heaven! Jonathan Smith (Landon) isn't your average helpful handyman. He's an angel on a mission from God… read more
| | |
| --- | --- |
| | A good series of those that were done before. |
Format:




Languages:


TRAILER

DVD serie:
Highway to Heaven


 
SYNOPSIS

DVD serie:
Highway to Heaven

Michael Landon (Little House on the Prairie) and Victor French (Gunsmoke) star in this family favorite hit series Highway to Heaven! Jonathan Smith (Landon) isn t your average helpful handyman. He s an angel on a mission from God, or the Boss as he likes to say. Accompanied by ex-cop Mark Gordon (French), whose troubled life Jonathan once helped turn around, the two travel the country, guiding the lost and suffering back toward the Highway to Heaven!
VALORACIÓN

de la serie en DVD:
AUTOPISTA HACIA EL CIELO
| | | |
| --- | --- | --- |
| ARTÍSTICA Y TÉCNICA | | (Buena) |
| FE Y VALORES | | (Beneficiosa) |
| RECOMENDACIÓN | | (Recomendada) |
PÚBLICO ADECUADO: Jóvenes, familiar.

NUESTRA OPINIÓN: Esta serie es un clásico de las series buenas que se hacían antes. Con series buenas nos referimos a una serie con un buen contenido, con valores, con personas humanas cuyo objetivo en la vida es ser mejores personas dentro de los problemas que tienen diariamente, pero que no falta el ayudar a los demás, y un entretenimiento puro y familiar. Lógicamente, nos es imposible ver la serie entera, por lo que nuestras referencias son por lo que hemos podido ver en los primeros capítulos y otras referencias externas. Agradecemos vuestras observaciones.
PRODUCT DETAILS:
Original title: Highway to Heaven
Number of discs: 4
Running Time: 780 minutes
Languages: Spanish, English
Year: 1984-1989
Genre: Drama
Rated: PG.
System: PAL - Zone 0 (All zones/regions)
Director: Michael Landon, Victor French, Dan Gordon, William F. Claxton
Cast: Michael Landon, Victor French, James Troesh, Margie Impert, Ron Tank.
Awards:
• 7 Nominations Emmy Awards