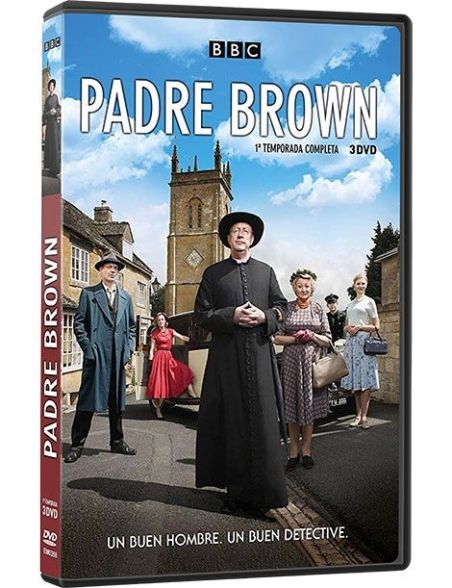  
Father Brown - Series 1 (3 DVD's)
All ten episodes from the first series of the TV drama FATHER BROWN (3 DVD's).
Set in the 1950s in the fictional village of Kembleford, the series follows Roman Catholic priest Father Brown who has a knack for solving crimes… read more
| | |
| --- | --- |
| | Entertainment, intrigue, a good man ... |
Format:




Languages:



Subtitles:

TRAILER

DVD series:
FATHER BROWN

VALORACIÓN

de la serie en DVD:
PADRE BROWN
| | | |
| --- | --- | --- |
| ARTÍSTICA Y TÉCNICA | | (Buena) |
| FE Y VALORES | | (Sin especiales valores) |
| RECOMENDACIÓN | | (Adecuada) |
PÚBLICO ADECUADO: adultos.
NUESTRA OPINIÓN: Según la BBC, productora de la serie, es la versión que más se parece a las novelas de G.K. Chesterton. No obstante, sigue siendo una adaptación creada por una televisión pública. La serie es para un público adulto, y no tiene ningún interés para utilizar como material didáctico para niños. Sino que es puro entretenimiento, con un personaje bueno que es un sacerdote. La serie es entretenida, esta bien hecha y el personaje es interesante. Nos podremos encontrar una de cal y una de arena en lo que se refiere al contenido, , pero el personaje principal, el padre Drown, parece ser limpio. Lógicamente, nos es imposible ver la serie entera, por lo que nuestras referencias son por lo que hemos podido ver en los primeros capítulos y otras referencias externas. Agradecemos vuestras observaciones.
INCONVENIENTES: Avisamos que es una serie de puro entretenimiento, no vamos a encontrar valores que nos sirva para catequesis, ni para los hijos si buscamos este fin.
SYNOPSIS

DVD series:
FATHER BROWN

All ten episodes from the first series of the TV drama starring Mark Williams as the eponymous character created by English writer G.K. Chesterton. Set in the 1950s in the fictional village of Kembleford, the series follows Roman Catholic priest Father Brown who has a knack for solving crimes. He is assisted by parish secretary Bridgette McCarthy (Sorcha Cusack) and is often a source of frustration for the local police.

The episodes are: 'The Hammer of God', 'The Flying Stars', 'The Wrong Shape', 'The Man in the Tree', 'The Eye of Apollo', 'The Bride of Christ', 'The Devil's Dust', 'The Face of Death', 'The Mayor and the Magician' and 'The Blue Cross'.

MOVIE INFO:

Original title: Father Brown
Number of discs: 3
Running Time: 466 minutes
Languages: Spanish, English
Subtitles: Spanish
Year: 2013
System: PAL - Zone 0 (All zones/regions)