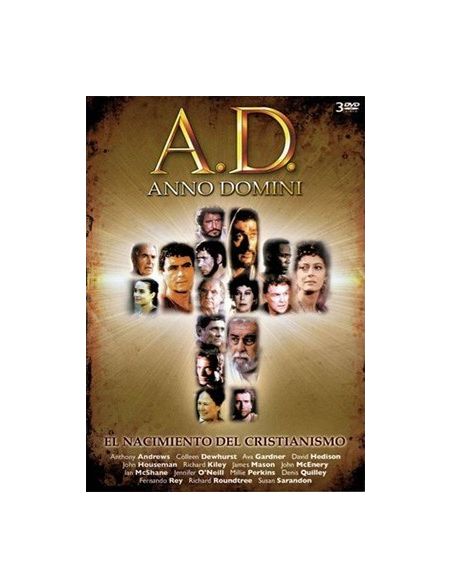  
Anno Domini (DVD Series)
3 DVD's mini-series "A.D." (ANNO DOMINI)
Set just after the death of Jesus Christ, this mini-series chronicles the life & adventures of Jesus's disciples, and events in Rome during the reigns of the Emperors Tiberius, Caligula, Claudius and Nero... read more
| | |
| --- | --- |
| | The life of the early Christians |
Format:




Languages:


TRAILER

DVD movie:
"A.D." (ANNO DOMINI)

REVIEW

DVD movie:
"A.D." (ANNO DOMINI)
| | | |
| --- | --- | --- |
| ARTISTIC AND TECHNICAL | | (Good) |
| FAITH AND VALUES | | (Profitable) |
| RECOMMENDATION | | (Recommended) |
APPROPRIATE PUBLIC: young and adults
OUR OPINION: It focuses on the life of the first Christians. Very good cast of well known actors in their time. Entertaining, with a good photography. A good serie where you can see a good budget invested for its production. It helps to understand the situation of the first Christians, who lived with fear and were persecuted. Furthermore, it develops very well each of the characters, how they think, which fears they have, what relationship they could have had ... A good serie to better understand who the first Christians were.
SYNOPSIS

DVD movie:
"A.D." (ANNO DOMINI)

The Book of Acts comes alive in this epic covering the years 30-69 A.D. Filmed on location in the Middle East and Europe, A.D. vividly depicts the rising confrontation between the mighty Roman Empire, Jewish zealots, and early Christians.

Painstakingly researched by award-winning producer Vincenzo Labella, this compelling mini-series blends Biblical narrative with historic incidents and engaging fictional characters.

Rejoice with Christ's disciples at Pentecost, and cry with them at the stoning of Stephen. Watch the Church grow -- Saul is dramatically converted, Peter performs wonders, and Philip baptizes the Ethiopian. Witness the barbarous treatment of Christians at the hands of Roman leaders, and finally, marvel at the great triumph of the Church, despite persecution and the martyrdom of Peter and Paul.

A.D. is the perfect resource for any church or home study group wishing to explore the New Testament period, the Early Church, or the Book of Acts.

PRODUCT DETAILS:

Original title: A.D. (Anno Domini)
Number of discs: 3
Running Time: 336 minutes
Languages: Spanish, English
Year: 1985
Rated:
No recomendada para menores de 12 años.
System: PAL - Zone 0 (All zones/regions)

Director: Stuart Cooper
Cast: Anthony Andrews, Colleen Dewhurst, Ava Gardner, David Hedison, John Houseman....
Awards:
• Emmyadward: Special Visual Effects (1985)