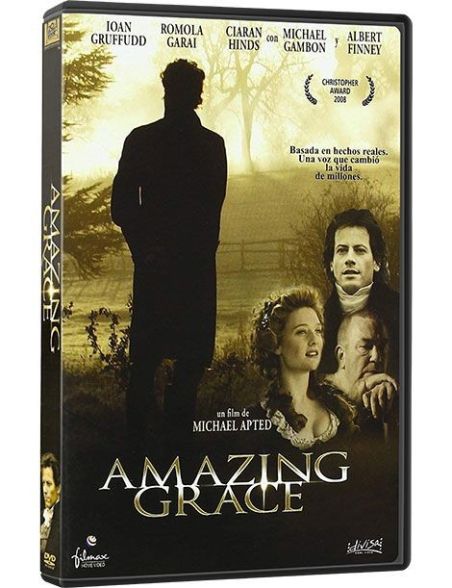  
Amazing Grace (DVD)
DVD movie AMAZING GRACE
Ioan Gruffudd plays Wilberforce, who, as a Member of Parliament, navigated the world of 18th Century backroom politics to end the slave trade in the British Empire... read more
| | |
| --- | --- |
| | A voice that changed the lives of millions of people |
Format:




Languages:



Subtitles:

TRAILER

DVD movie:
AMAZING GRACE

REVIEW

DVD movie:
AMAZING GRACE
| | | |
| --- | --- | --- |
| ARTISTIC AND TECHNICAL | | (Very good) |
| FAITH AND VALUES | | (Appropriate) |
| RECOMMENDATION | | (Recommended) |
APPROPRIATE PUBLIC: Youngsters
OUR OPINION: Despite being an 18th-19th century film, it reminds us that there are still slaves today. It tells us about slavery and how this issue can obsess some people, who are fighting to really change the world. To change the world we often have to fight against money, but we can be perspicacious to achieve something that seems impossible. To change the world you need prayer and action, and Amazing Grace is a film that helps Christians to be astute as the snake to get it changed.
REMARKABLE SENTENCES:: "God sometimes prefers to work at a slow pace, without storms, drop by drop"
SYNOPSIS

DVD movie:
AMAZING GRACE

Ioan Gruffudd plays Wilberforce, who, as a Member of Parliament, navigated the world of 18th Century backroom politics to end the slave trade in the British Empire. Albert Finney plays John Newton, a confidante of Wilberforce who inspires him to pursue a life of service to humanity. Benedict Cumberbatch is William Pitt the Younger, England's youngest ever Prime Minister at the age of 24, who encourages his friend Wilberforce to take up the fight to outlaw slavery and supports him in his struggles in Parliament.

Elected to the House of Commons at the age of 21, and on his way to a successful political career, Wilberforce, over the course of two decades, took on the English establishment and persuaded those in power to end the inhumane trade of slavery.

Romola Garai plays Barbara Spooner, a beautiful and headstrong young woman who shares Wilberforce's passion for reform, and who becomes his wife after a whirlwind courtship. Youssou N'Dour is Olaudah Equiano. Born in Africa and sent as a slave to the Colonies, Equiano bought his freedom and made his home in London, where he wrote a best-selling account of his life and became a leading figure in the fight to end the slavery of his fellow countrymen.

MOVIE INFO:

Original title: Amazing Grace
Number of discs: 1
Running Time: 111 minutes
Languages: Spanish, English
Subtitles: Spanish
Year: 2006
Rated: PG.
System: PAL - Zone 2 (Europe...)

Director: Michael Apted
Cast: Ioan Gruffudd, Albert Finney, Michael Gambon, Romola Garai, Benedict Cumberbatch, Rufus Sewell, Ciaran Hinds, Youssou N'Dour, Toby Jones.