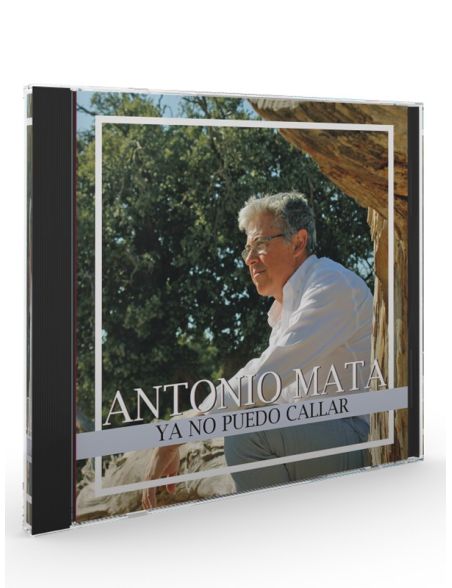  
Ya no puedo callar (Antonio Mata) - CD
CD de música YA NO PUEDO CALLAR del autor ANTONIO MATA. Álbum debut del cantautor católico madrileño Antonio Mata. Con un profundo arraigo espiritual en Cursillos de Cristiandad, Antonio nos ofrece un disco de un calidad musical excepcional, con un estilo musical variado y sorprendente: desde baladas íntimas con piano y orquesta, hasta canciones pop rock .. leer más
Autor: ANTONIO MATA
Editorial: Santafé
Idiomas: Español
Núnero de discos: 1
Sinopsis del CD de música:
YA NO PUEDO CALLAR
(ANTONIO MATA)
Álbum debut del cantautor católico madrileño Antonio Mata. Con un profundo arraigo espiritual en Cursillos de Cristiandad, Antonio nos ofrece un disco de un calidad musical excepcional, con un estilo musical variado y sorprendente: desde baladas íntimas con piano y orquesta, hasta canciones pop rock con una marcada influencia en su sonido de artistas como Keane, ColdPlay o Mike and The Mechanics, pero siempre con unas letras muy trabajadas y con un poso profundamente espiritual.
"Ya no puedo callar" es el grito apasionado de quien se encuentra con Jesucristo y es incapaz de frenar el impulso del Espíritu que nos empuja a dar testimonio de ese encuentro. Ganador de dos premios SPERA al mejor álbum pop de música católica y a la mejor producción, este trabajo fue la gran revelación de la música católica en el año 2018. Diez canciones imprescindibles para bucear en las entrañas de una espiritualidad profunda, personal e intima. Bajo la dirección artística de Fernando Salaverri, y la producción musical de David Santafé y José Atero, el álbum cuenta con colaboraciones de excepción, como Unai Quirós, Maite López o La Voz del Desierto.
"Ya no puedo callar" es una montaña rusa de emociones, divertido a veces, más serio en otras, siempre positivo y abierto a la esperanza, con canciones sobre el amor, sobre el perdón, la resurrección o la Eucaristía, llenas de frescura y originalidad.
CONTENIDO CD1:
01 Prefiero el original
02 Ya no puedo callar
03 Vida entregada
04 Nana habanera
05 Mientras no descanse en tí
06 Volver a caminar
07 En los brazos de María
08 ¿Qué locura es ésta?
09 No busquéis aquí
10 Adicto al perdón
11 In the Little arms of Mary
12 Caribbean lullaby
Sobre :
ANTONIO MATA
Antonio Mata es un cantautor madrileño, que compagina su vocación musical con su trabajo como arquitecto y su labor en la pastoral prematrimonial en la diócesis de Getafe. Padre de familia numerosa (de las de antes, como le gusta recordar) decidió recientemente volcar su actividad pastoral en la evangelización a través de la música. Esta vocación ha cristalizado en su primer CD: "Ya no puedo callar"
"Antonio Mata es el copista del Espíritu Santo" Teresa Ekobo, presentadora y periodista.
Data sheet
Search by content:

For teens
With values

Language:

Spanish

Search by format:

CD