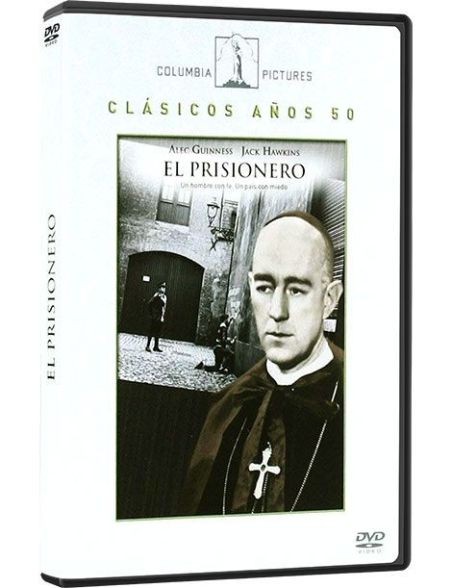  
The Prisioner (DVD)
THE PRISIONER DVD movie
The Prisoner is based on the real-life travails of Hungarian Cardinal Mindszenty, who after suffering under Nazi persecution was imprisoned by the new Communist regime for remaining loyal to his religious convictions.. read more
| | |
| --- | --- |
| | A man with faith. A country with fear |
Format:

Languages:

Subtitles:
TRAILER

DVD movie:
THE PRISIONER

REVIEW

DVD movie:
THE PRISIONER
| | | |
| --- | --- | --- |
| ARTISTIC AND TECHNICAL | | (Good) |
| FAITH AND VALUES | | (Appropriate) |
| RECOMMENDATION | | (Adequate) |
APPROPRIATE PUBLIC: Youngsters .
OUR OPINION: The prisoner is a jewel of what would be the espionage and psychological cinema today. It is about destroying the opponent by entering his mind, and not by torture. This is what the cardinal (Alec Guinness) faces, unjustly accused. We will be immersed in a conversation that tries to confuse the cardinal. In this conversation we will not get anything special, but the satisfaction of the plot itself and the entertainment. It is only at the end with the majestic phrase "Try not to judge the priesthood by the priest", where we understand the possible metaphor of the whole film, a very deep phrase that makes us think and understand the weakness of man, and like the devil , using psychology seeks to conquer us, because we are human, and we fall, but in spite of that the Church founded by Christ is Holy.
SOME PHRASES: "Try not to judge the priesthood by the priest"
SYNOPSIS

DVD movie:
THE PRISIONER

The Prisoner is based on the real-life travails of Hungarian Cardinal Mindszenty, who after suffering under Nazi persecution was imprisoned by the new Communist regime for remaining loyal to his religious convictions. Alec Guinness, his head shaved, plays an unnamed Cardinal in an unspecified Eastern European country who is clapped into jail. Here he is ordered by the politicos to issue a phony statement to his flock, one that will effectively end Catholicism in his country. Jack Hawkins plays the diabolically clever "Interrogator", who is almost successful in convincing Guinness that his false statement will have a beneficial effect.
Awards
1955: BAFTA: 5 Nominations, Including Best Film and British Actors
1955: New York Film Critics Circle: Nominated for Best Actor (Alec Guinness)
1959: Seminci: Golden Spike: Best Movie

MOVIE INFO:

Original title: THE PRISIONER
Number of discs: 1
Running Time: 89 minutes
Languages: Spanish, English, Italian and German
Subtitles: Spanish, English, German, Italian, Portuguese, Hindi, Greek, Dutch, Hungarian and Turkish
Year: 1955
Rated: PG.
System: PAL - Zone 2 (Europe...)

Director: Peter Glenville
Cast: Alec Guinness, Jack Hawkins, Raymond Huntley, Wilfrid Lawson, Jeannette Sterke, Ronald Lewis, Kenneth Griffith
Screenwriter: Bridget Boland
Music: Benjamin Frankel
Cinematography: Reginald Wyer (B&W)