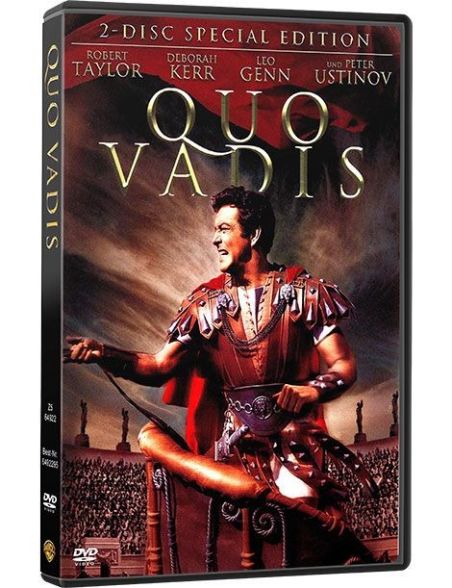  
Quo Vadis (Two-Disc Special Edition)
QUO VADIS (Two-Disc Special Edition)
Returning to Rome after 3 years in the field, General Marcus Vinicius meets Lygia and falls in love with her. She is a Christian and doesn't want to have anything to do with a warrior. Though she grew up Roman, the adopted daughter of a retired general... read more
Format:

Languages:


Subtitles:
TRAILER

DVD movie:
QUO VADIS


 
SYNOPSIS

DVD movie:
QUO VADIS

Returning to Rome after 3 years in the field, General Marcus Vinicius meets Lygia and falls in love with her. She is a Christian and doesn't want to have anything to do with a warrior. Though she grew up Roman, the adopted daughter of a retired general, Lygia is technically a hostage of Rome. Marcus gets Emperor Nero to give her to him for services rendered. Lygia resents this, but somehow falls in love with Marcus anyway. Meanwhile Nero's atrocities get more outrageous. When he burns Rome and blames the Christians, Marcus goes off to save Lygia and her family. Nero captures them and all the Christians, and throws them to the lions.

MOVIE INFO:

Original title: Quo Vadis
Number of discs: 2
Running Time: 171 minutes
Languages: Spanish, English, German, Hungarian, Polski
Subtitles: Spanish
Year: 1951
Rated: PG.
System: PAL - Zone 2 (Europe...)

Director: Mervyn LeRoy
Cast: Robert Taylor, Deborah Kerr, Peter Ustinov, Leo Genn, Patricia Laffan, Finlay Currie, Abraham Sofaer, Buddy Baer, Marina Berti, Felix Aylmer, Nora Swinburne, Ralph Truman, Norman Wooland, Peter Miles, Nicholas Hannen, Geoffrey Dunn, John Ruddock, Elspeth March, Strelsa Brown, Alfredo Varelli, Adrienne Corri, Sophia Loren, Bud Spencer, Elizabeth Taylor.
Awards:
• 1951: 8 Nominations for the Academy Awards, including best movie
• 1951: 2 Golden Globes: Best Cinematography (Color) and Supporting Actor (Ustinov). 3 Nom.