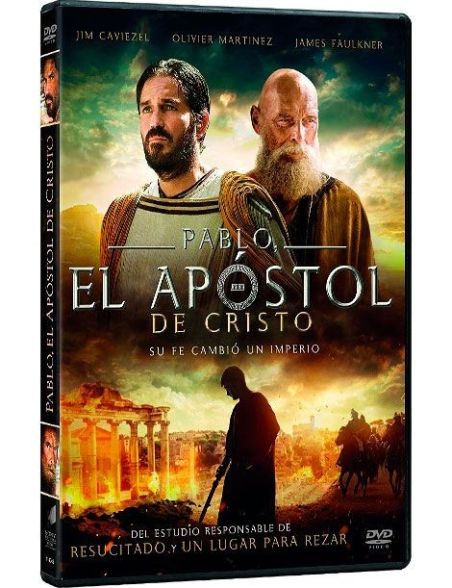  
Paul, Apostle of Christ (DVD)
PAUL, APOSTLE OF CHRIST DVD movie
Paul, who goes from the most infamous persecutor of Christians to Christ's most influential apostle, is spending his last days in a dark and bleak prison cell awaiting execution by Emperor Nero... read more
| | |
| --- | --- |
| | Their faith challenged an empire |
Format:

Languages:

Subtitles:
TRAILER

DVD movie:
PAUL, APOSTLE OF CHRIST

VALORACIÓN

de la película en DVD:
PABLO, EL APÓSTOL DE CRISTO
| | | |
| --- | --- | --- |
| ARTÍSTICA Y TÉCNICA | | (Buena) |
| FE Y VALORES | | (Beneficiosa) |
| RECOMENDACIÓN | | (Muy recomendada) |
TARGET AUDIENCE: Youngsters, Adults
OUR OPINION: Andrew Hyatt, director of Full of Grace, faces a bigger production, this time produced by Jim Caviezel, without being a super-production he knows how to climb the step he has to face, knowing how to take advantage of the few available scenarios. a great atmosphere It has an aesthetic, photography and realization similar to Full of Grace, correcting the mistakes that this had. The influence of Jim Caviezel is noted with some similarities to The Passion of Christ. In short, get a good tape, where the general feeling is of a very good quality. The script is not as dense and deep as Full of Grace, but it is still for an adult audience. He speaks mainly of using Love to end evil, Love versus revenge. It is not a biography of Saint Paul, but focuses on the last moments of his life, and together with Saint Luke, they try to transmit to the Community Mercy and Forgiveness in the face of persecution and injustice. Paul of Tarsus must face the temptations that the Devil puts on him, making him remember his past life, but it is in Hope that he supports all his Faith. The film leads us to find in these characters the Love of Christ, and in the plot to discover the importance of being astute to take the Gospel to the whole world. It is worth highlighting a scene between Pablo and Lucas speaking with great naturalness as two Christian friends would do, full of humor, affection, jokes, and sympathy, without letting themselves be carried away by the drama that in many films is played by Christians. A movie where you can get a lot of well-studied content.
SOME PHRASES: "Sagaces like snakes and simple as doves", "Evil can only be overcome with Good", "Christ asked us to take care of the world, not govern it", "When sin abounded, Grace abounded more", "Christ has already overcome all his enemies through the Cross", "They will know us by our Love".
SYNOPSIS

DVD movie:
PAUL, APOSTLE OF CHRIST

Paul (Faulkner), who goes from the most infamous persecutor of Christians to Christ's most influential apostle, is spending his last days in a dark and bleak prison cell awaiting execution by Emperor Nero. Luke(Caviezel), his friend and physician, risks his life when he ventures into Rome to visit him. Paul is under the watchful eye of Mauritius (Martinez), the prison's prefect, who seeks to understand how this broken old man can pose such a threat. But before Paul's death sentence can be enacted, Luke resolves to write another book, one that details the beginnings of "The Way" and the birth of what will come to be known as the church. Their faith challenged an empire. But their words changed the world.

MOVIE INFO:

Original title: PAUL, APOSTLE OF CHRIST
Number of discs: 1
Running Time: 129 minutes
Languages: Spanish, English and German
Subtitles: Spanish, English, German, Danish, Estonian, Finnish, Lithuanian, Norwegian, Russian, Swedish, Turkish
Coded for the deaf: English
Year: 2018
Rated: PG-13.
System: PAL - Zone 2 (Europe...)

Director: Andrew Hyatt
Cast: Jim Caviezel, James Faulkner