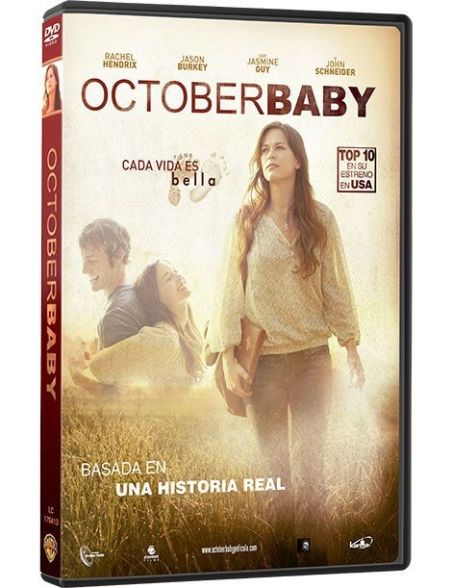  
October Baby (DVD)
OCTOBER BABY is the coming of age story of a beautiful and naive college freshman who discovers that her entire life is a lie and sets out on a road trip with a host of misfits to discover herself and the answers she craves.... read more
Format:

Languages:

Subtitles:
TRAILER

DVD movie:
OCTOBER BABY

SYNOPSIS

DVD movie:
OCTOBER BABY

As the curtain rises, Hannah hesitantly steps onto the stage for her theatrical debut in college. Yet before she can utter her first lines, Hannah—unscripted—collapses in front of the stunned audience.

After countless medical tests, all signs point to one underlying factor: Hannah's difficult birth. This revelation is nothing compared to what she then learns from her parents: she was actually adopted … after a failed abortion attempt.

Bewildered, angered, and confused, Hannah turns for support to Jason, her oldest friend. Encouraged by his adventurous spirit, Hannah joins his group of friends on a Spring Break road trip, embarking on a journey to discover her hidden past … and find hope for her unknown future.

In the midst of her incredible journey, Hannah finds that life can be so much more than what you have planned.

MOVIE INFO:

Original title: October Baby
Number of discs: 1
Running Time: 107 minutes
Languages: Spanish, English
Subtitles: Spanish
Year: 2011
Genre: Documentary film
Rated: PG.
System: PAL - Zone 2 (Europe...)

Director: Andrew Erwin, Jon Erwin
Cast: Rachel Hendrix, Jason Burkey, Robert Amaya, Jasmine Guy, John Schneider.