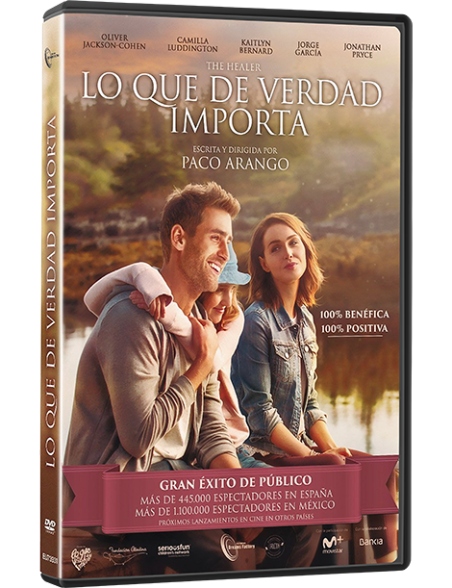  
Lo que de verdad importa (The Healer DVD)
DVD LO QUE DE VERDAD IMPORTA (The Healer) It's a feel-good movie about a man who discovers he has the power to heal, and it's suitable for families and people of all ages... read more
| | |
| --- | --- |
| | A movie that will steal your heart |
Format:




Languages:



Subtitles:

TRAILER

DVD movie:
LO QUE DE VERDAD IMPORTA (THE HEALER)

REVIEW

DVD movie:
LO QUE DE VERDAD IMPORTA (THE HEALER)
| | | |
| --- | --- | --- |
| ARTISTIC AND TECHNICAL | | (Very good) |
| FAITH AND VALUES | | (Appropriate) |
| RECOMMENDATION | | (Adequate) |
APPROPRIATE PUBLIC: Adults, young adults. Move away in faith
OUR OPINION: A film very well made from a cinematographically point of view. Entertaining, comical and romantic ... As for the content is widely open, it is aimed at an unbelieving audience or away from the faith, although the director wants to get to everyone. The truth that has some drawbacks in the development of the character that does not resemble what the Church teaches us. However, it is a positive film that for a well-formed audience there are no disadvantages. Above all, it is aimed at an audience that is far from faith, which allows them to rethink the meaning of life and its relationship with God.
INCONVENIENT: There are two drawbacks that should be pointed out, which we do not recommend for children to see, nor young adolescents without training. Spoiler care: There is an anger of the protagonist with God in a slightly risen church, however, we can understand that it is part of his conversion process. Perhaps the second drawback is more important, and yet, it goes unnoticed: Premarital relationships are understood as normal once the protagonist has been converted.
SYNOPSIS

DVD movie:
LO QUE DE VERDAD IMPORTA (THE HEALER)

"The Healer" is a film directed by Spanish film maker and philanthropist Paco Arango ("Maktub"). It features a cast of well-known actors. It was inspired by two things from Connecticut - Paul Newman and The Hole in the Wall Gang Camp, a Serious Fun Children's Network camp, founded by Paul Newman. While the film is not specifically about either, Paco was inspired by both when writing the story and making the film. The film is dedicated to Paul Newman.

It's a feel-good movie about a man who discovers he has the power to heal, and it's suitable for families and people of all ages. Alec, the main character, gets a chance to clear his debts in exchange for moving to rural Nova Scotia for a year. Once he gets there, he discovers that he can heal people, but he struggles to accept his gift and the responsibilities that come with it. A teenager with cancer shows him the way. 

PRODUCT DETAILS:

Original title: Lo que de verdad importa
Number of discs: 1
Running Time: 113 minutes
Languages: Spanish, English
Subtitles: Spanish
Year: 2017
Rated:
Suitable for all ages.
System: PAL - Zona 2 (Europa)

Director: Paco Arango
País:  España 
Guión: Paco Arango
Música: Nathan Wang 
Fotografía: Javier Aguirresarobe 
Productora: ESP-62 Producciones / Topsail Entertainment 
Cast: Oliver Jackson-Cohen, Jonathan Pryce y Camilla Luddington