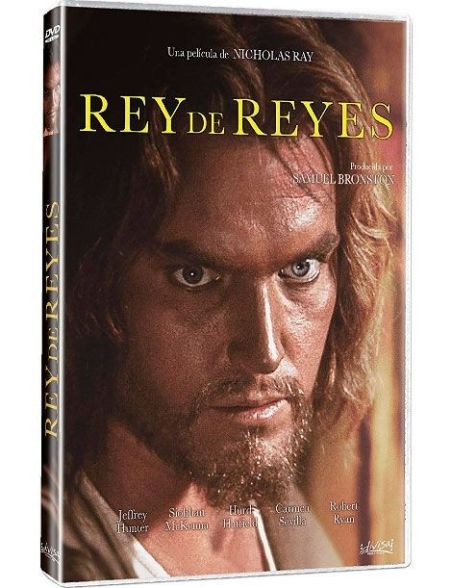  
King of Kings DVD
KING OF KINGS DVD movie
Epic retelling of Christ's life and the effects of his teachings on those around him. The life of Jesus Christ is depicted. Highlighted are the following events: his birth in a Bethlehem stable; the prophecies of John the Baptist... read more
Format:




Languages:



Subtitles:

TRAILER

DVD movie:
KING OF KINGS

SYNOPSIS

DVD movie:
KING OF KINGS

One major film star referred to director Nicholas Ray as a "loser," because of Ray's alleged willingness to let his more temperamental actors walk all over him. Evidently, Ray had a very compliant and cooperative cast in King of Kings, inasmuch as the film emerged as one of the most disciplined Biblical epics ever made. Jeffrey Hunter is cast as Jesus Christ, delivering a wholly credible performance in this most taxing of roles. Siobhan McKenna is a radiant if somewhat overaged Mary; Hurd Hatfield offers a properly preening Pontius Pilate; Rip Torn portrays Judas more for the tragedy than the treachery; Robert Ryan (a personal favorite of Ray's) is one of the best John the Baptists you're ever likely to see; and Harry Guardino convincingly interprets Barabbas as a firebrand political extremist. The only false note in the casting is the MGM-dictated selection of teenaged Brigid Bazlen as Salome. The best aspect of the film is its handling of the days after the Resurrection; the "Jesus sightings" are offered as secondhand information, so as to retain some of the mystery inherent in the Scriptures. King of Kings was previously filmed in 1927 by Cecil B. DeMille, with a middle-aged H.B. Warner as Jesus.

MOVIE INFO:

Original title: King of Kings
Number of discs: 1
Running Time: 154 minutes
Languages: Spanish, English
Subtitles: Spanish
Year: 154
Rated: PG.
System: PAL - Zone 2 (Europe...)

Director: Nicholas Ray
Cast: Jeffrey Hunter, Hurd Hatfield, Siobhan McKenna, Robert Ryan, Frank Thring, Rip Torn, Harry Guardino, Viveca Lindfors, Rita Gam, Carmen Sevilla, Brigid Bazlen, Guy Rolfe, Royal Dano, Edric Connor, Maurice Marsac, Gregoire Aslan, George Coulouris, Luis Prendes, Conrado San Martín, Gérard Tichy, Antonio Mayans, José Nieto, Rubén Rojo, Fernando Sancho, Michael Wager, Félix de Pomés, Adriano Rimoldi, Barry Keegan, Rafael Luis Calvo, Tino Barrero, Paco Morán, Orson Welles.
Screenwriter: George Seaton (Novel: Franz Werfel).
Music: Miklós Rózsa.
Cinematography: Arthur Miller (B&W).

Data sheet
Search by content:

Religious

Search by subjet:

Bible and biblical facts
Classics

Search by main character:

Christ

Language:

English
Spanish

Subtitles

Spanish

Search by format:

DVD

Sistem

PAL - Zone 2 (Europe...)

Liturgical seasons & Sacraments:

Easter
Holy Week
Lent
Specific References
EAN13

8421394550995