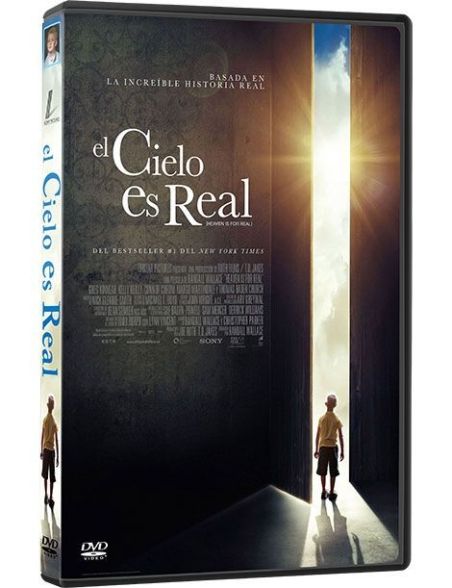  
Heaven Is for Real (DVD)
HEAVEN IS FOR REAL DVD
A small-town father who must find the courage and conviction to share his son's extraordinary, life-changing experience with the world... read more
| | |
| --- | --- |
| | A film about Heaven |
Format:

Languages:

Subtitles:
TRAILER

DVD movie:
HEAVEN IS FOR REAL

REVIEW

DVD movie:
HEAVEN IS FOR REAL
| | | |
| --- | --- | --- |
| ARTISTIC AND TECHNICAL | | (Very good) |
| FAITH AND VALUES | | (Profitable) |
| RECOMMENDATION | | (Highly recommended) |
APPROPRIATE PUBLIC: young people, family.
OUR OPINION:Impressive Protestant film based on a true story. Do we really believe in Heaven? A film where humor is not lacking and tells us about Heaven.
SYNOPSIS

DVD movie:
HEAVEN IS FOR REAL

A small-town father who must find the courage and conviction to share his son's extraordinary, life-changing experience with the world. During an emergency appendectomy operation, Colton Burpo, only four years old at the time, claimed he'd been to heaven and sat on Jesus' lap. At first no one pays attention to the little boy, but when he reveals details of what happened while he was having an out-of-body experience, including describing what his parents were doing during his surgery and where they were, his family has second thoughts about his claims. Colton talks about his great-grandfather, whom he's never met, and identifies him through a photo he's never seen. He also tells his parents he saw his other sister, who was miscarried at two months, saying she was happy to see him in Heaven. However, not everyone believes Colton, and it creates stress for the family.

PRODUCT DETAILS:

Original title: Heaven Is for Real
Number of discs: 1
Running Time: 99 minutes
Languages: Spanish, English, French and Italian
Subtitles: Spanish, English, French and Italian
Year: 2014
Rated: PG.
System: PAL - Zone 2 (Europe...)

Director: Randall Wallace
Cast: Kelly Reilly, Greg Kinnear, Jacob Vargas, Thomas Haden Church, Margo Martindale, Jon Ted Wynne, Danso Gordon, Darren Felbel, Nancy Sorel, Darcy Fehr.