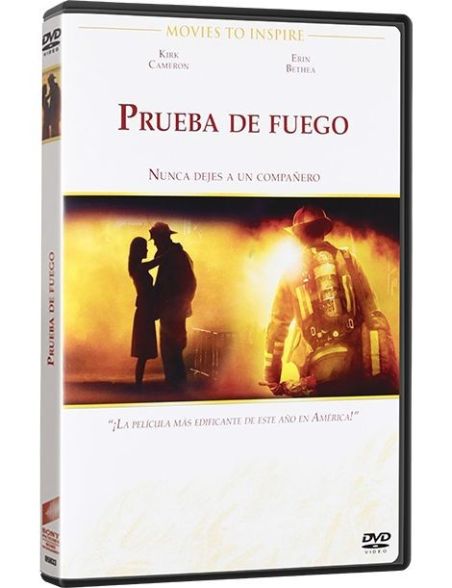  
Fireproof (DVD)
Is the story of a firefighter whose marriage is about to go up in smoke. At work, inside burning buildings, Capt. Caleb Holt lives by the old firefighter's adage: Never leave your partner behind. At home, in the cooling embers of his... read more
| | |
| --- | --- |
| | Essential film about marriage |
Format:

Languages:

Subtitles:

TRAILER

DVD movie:
FIREPROOF

REVIEW

DVD movie:
FIREPROOF
| | | |
| --- | --- | --- |
| ARTISTIC AND TECHNICAL | | (Very good) |
| FAITH AND VALUES | | (Very profitable) |
| RECOMMENDATION | | (Highly recommended) |
APPROPRIATE PUBLIC: Marriage, Youngsters.
OUR OPINION: Essential film about marriage, where it teaches us to understand what love really is, the need to be united to Christ to know how to love and how marriage works, to fight daily to keep the flame alive, and understand which "parasites" separates us from marriage to be alert, break with them and give ourselves to a perfect love. The film, despite the theme is not in a drama, but constantly contains gags and very good points of humor, so it is very entertaining. You will fall in love, and you will fall in love with your marriage.
INCONVENIENT: It is a film of Protestant faith, so there are several points that do not treat properly for a Catholic, such as that we are brothers because we are children of God, but the figure of the Virgin Mary is obvious, or that the Sacrament of Confession that must be imparted by a priest remains in an internal confession with God.
SYNOPSIS

DVD movie:
FIREPROOF

Lt. Caleb Holt lives by the old firefighter's adage: Never leave your partner behind. Inside burning buildings, it's his natural instinct. In the cooling embers of his marriage, it's another story. After a decade of marriage, Caleb and Catherine Holt have drifted so far apart that they are ready to move on without each other. Yet as they prepare to enter divorce proceedings, Caleb's dad asks his son to try an experiment: The Love Dare. While hoping The Love Dare has nothing to do with his parents' newfound faith, Caleb commits to the challenge. But can he attempt to love his wife while avoiding God's love for him? Will he be able to demonstrate love over and over again to a person who's no longer receptive to his love? Or is this just another marriage destined to go up in smoke? From the creators of Facing the Giants, this action-packed love story stars Kirk Cameron, Erin Bethea, and Ken Bevel.

MOVIE INFO:

Original title: Fireproof
Number of discs: 1
Running Time: 122 minutes
Languages: Spanish, English and Italian
Subtitles: Spanish, English, Italian, Portuguese, Danish, Finnish, Greek, Hindi, Norwegian and Swedish
Year: 2008
Rated: PG.
System: PAL - Zone 2 (Europe...)

Director: Alex Kendrick
Cast: Kirk Cameron, Erin Bethea, Ken Bevel, Alex Kendrick, Bailey Cave, Harris Malcom, Jason McLeod, Phyllis Malcom.
Movie Reviews:
• "I've spent my entire life trying to win in two different pro sports. What I appreciate about FIREPROOF is that it's an entertaining and challenging reminder of what it takes to win in marriage!" (Joe Gibbs, Owner, Joe Gibbs Racing)