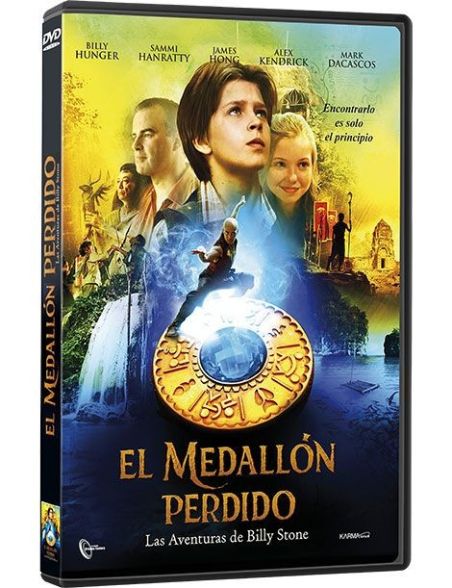  
The Lost Medallion: The Adventures Of Billy Stone (DVD)
DVD movie THE LOST MEDALLION: THE ADVENTURES OF BILLY STONE
A man who stops into a foster home to drop off some donations soon tells the kids a story about two teenage friends who uncover a long-lost medallion that transports them back in time... read more
Format:

Languages:

Subtitles:
TRAILER

DVD movie:
THE LOST MEDALLION: THE ADVENTURES OF BILLY STONE

SYNOPSIS

DVD movie:
THE LOST MEDALLION: THE ADVENTURES OF BILLY STONE

A man who stops into a foster home to drop off some donations soon tells the kids a story about two teenage friends who uncover a long-lost medallion that transports them back in time.
The movie begins as Daniel Anderson (Alex Kendrick) arrives at a foster home, bringing donations. He is asked to tell a story to the children. He accepts and the movie transitions into the Lost Medallion universe.

The story begins in a flashback in which a man holding an item wrapped in cloth is running away from another man. The man digs a hole by a tree and buries a medallion. The movie flashes back to the present where Billy (Billy Unger) sneaks into his father's archaeology site and tries to help work. He is told to leave, so he goes swimming with his best friend Allie (Sammi Hanratty). When he goes back home, she gives him an old book. Billy is not a reader, so they read it together. They hear how the medallion was buried in a different spot than where his dad is looking. They go into the forest with Billy's home-made metal detector go searching. Two men from a rival archeology company have been watching them and bring their own metal detectors. The kids stumble on the goons and head off in a different direction. They hide behind a large tree. The detector goes off and they dig up the medallion.

MOVIE INFO:

Original title: The Lost Medallion: The Adventures Of Billy Stone
Number of discs: 1
Running Time: 97 minutes
Languages: Spanish, English
Subtitles: Spanish
Year: 2013
Genre: Documentary film
Rated: PG.
System: PAL - Zone 2 (Europe...)

Director: Bill Muir
Cast: Billy Unger, Sammi Hanratty, James Hong, Jansen Panettiere, Alex Kendrick, Mark Dacascos, William Corkery.