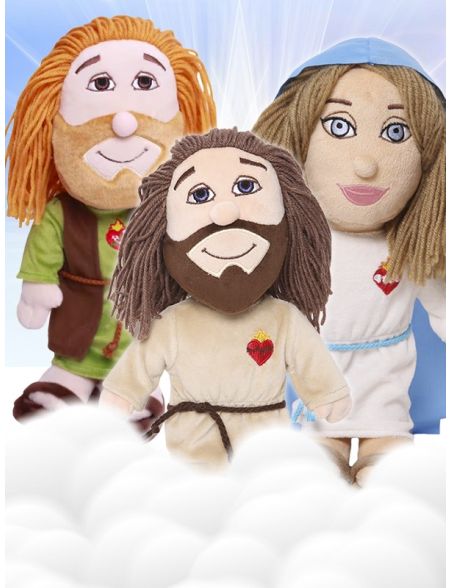  
Pack Plush Jesus, Virgin Mary and Saint Joseph
PLUSH JESUS, VIRGIN MARY and Saint Joseph.  Sympathetic and cuddly toy made of velvet (plush). High quality material. You can take it with you to hug him, play or pray with him..... leer más


PLUSH JESUS and VIRGIN MARY

Sympathetic and cuddly toy of Jesus adult made of velvet (plush). Simple design that tries to resemble the Jesus of Mercy as he appeared to Saint Faustina Kowalska. High quality material. You can take it with you to hug him, play or pray with him. With European and American certificate can be used by children of any age..
DESCRIPTION
- Super soft plush body and tunic
- Head full of wool hair.
- Embroidered eyes, eyebrows and smiling mouth
- 30 cm/11,8 in, standing position.
- Sewn-on nose, belt and slippers.
- For children 0+
- Ongoing safety certification for EU and US market
PLUSH SAINT JOSEPH

NEW Plush Saint Joseph created with the support of crowdfunding. Get you customers a special treat for Christmas. With a carptenter´s angle.
• Plush Saint Joseph, Guardian of Jesus. Height 30 cm. Soft and meaningful figure with heart for children. Kind and friendly appearance. Made of extra soft plush and with yarn hair. Beautiful embroidery on eyes and heart.
• For prayer, Bible studies for children, for play or for falling asleep with at night.
• Makes a good gift for birthday or baptism
• Designed in Slovakia by parents of three for children, their parents and teachers. Suitable for ages 3+
DESCRIPTION
Dimensions: 30x15x10
Weight: 0.2
Composition: Super soft plush, yarn hair.

Data sheet
Search by content:

For kids
Religious

Search by subjet:

Gifts with message

Search by main character:

Christ
Mary
Sacred Heart of Jesus

Language:

Catalan
English
French
German
Hindi
Italian
Latin American Spanish
Other
Polish
Spanish

Search by format:

Other

Tipo de regalo

Otros regalos