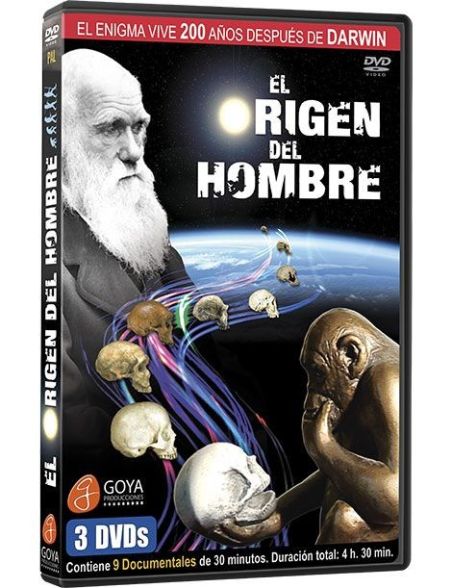  
The Origin of Man (DVD)
THE ORIGIN OF MAN about the evolution, creation and faith; under the Patronage of the Pontifical Council for Culture and part of the STOQ proyect (Science, Theology and the Ontological Quest)... read more
Format:




Languages:



Also avalaible:
TRAILER

DVD:
THE ORIGIN OF MAN.
SYNOPSIS

DVD:
THE ORIGIN OF MAN.
A 9 documentary series under the patronage of the Pontifical Council for Culture.
Darwin's Theory of Evolution of the Species continues to fascinate most scientists. However, interpretations of the theory elicit passionate disputes: When did the Universe begin?, And life... When did it appear, and how?, Are we descended from apes, as Darwin claimed?, Do we share a common ancestor with the chimpanzee?.

Darwin was a controversial figure in the 19th century and in the 20th century his theory of evolution was used by different ideologies to justify materialism or racism. Nowadays few scientists deny fossil evidence, but the debate continues, revolving round the following question: Is there an intelligence which guided the wondrous process of evolution?

The nine documentaries give entertaining and rigorously scientific answers to these and many other questions. Taking part are more than 40 specialists and researchers from various countries, including two Nobel-prize winners.

In addition to fossil data, different Darwinian and neodarwinian theories are outlined, as are the positions of different Christian groups in respect of evolution: from creationism and the "Intelligent Design" to the position of the popes, from Pius XII to John Paul II and Benedict XVI.


TECHNICAL DETAILS:
Original Title: EL ORIGEN DEL HOMBRE
Productora: Goya Producciones
Distribuidora: Goya Producciones
Number of discs: 3
Run Time: 270 min. (9x30 min.)
Languages: Spanish / English / Italiano
Year: 2008
System: PAL / NTSC

CHAPTERS: 1. Evolution versus Creation? 2. The Ancestors of Man 3. The Crowning of Homo Sapiens 4. From the Big Bang to Planet Earth 5. Nothing more than Material? 6. Are we here by Chance? 7. Evolution and Christianity 8. And then there were People 9. Science, Religion… and Darwin