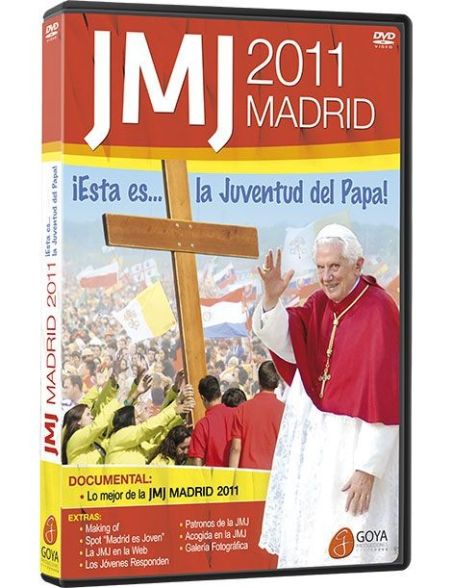  
WYD Madrid 2011
DVD with the most stunning scenes of Madrid World Youthg Day 2011 ...

To watch online or download the movie
(spanish language only)
This is the Pope's Youth!
A DVD which leaves a print. The most impressive scenes of World Youth Day 2011 in Madrid. The sensational atmosphere of the 1,500,000 pilgrims from 195 countries. Their testimonies. Their emotive encounters with Benedict XVI ...

The Pope's message summarized in each of the events ... a video of special interest for trainers and educators.
With over 100 minutes of fascinating "extras": the making of, the answers of young people to the doubts of faith, some of the best videoblogs, a magnificent photo gallery ...
DVD Content:
• Documentary: "WYD Madrid 2011. This is… the Youth of the Pope" (45 minutes summary aprox.).
• Extras (100 minutes aprox.):
      • Making of
      • WYD Patrons
      • Spot "Madrid is Young"
      • WYD Welcome
      • WYD in the Web
      • Photo Gallery
      • Youngsters talk back
FICHA TÉCNICA:: Título Original: JMJ Madrid 2011. Esta es... la Juventud del Papa
Nº de discos: 1
Duración: 145 min.
Calificación: Recomendada para todos los públicos
Idiomas: Español
Año: 2011