Lent 2018
Lent 2018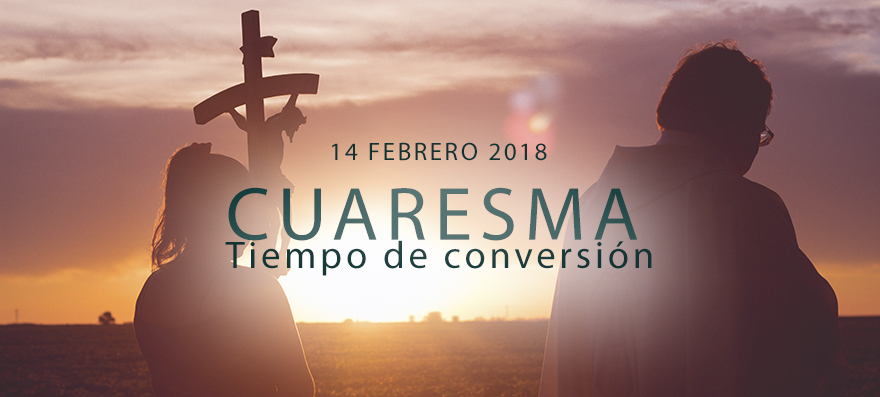 Lent 2018

This year Lent begins early, on February 14 and ends on March 29 (Holy Thursday) at 3:00 p.m. (noon time).
What is Lent?

In Latin "quadragesima", which means 40 days before Easter. The origin of the 40 days we see in some characters and moments of the Bible. The most important: Jesus. He spent 40 days and 40 nights in the desert preparing for his mission. In the beginning, we find it in the 40 days of the universal flood, the 40 days of the Jewish people after their departure from Egypt walking through the desert, and in Moses as in Elias, when climbing the mountain.
How is this date determined?

The key date is Easter. The lunar calendar is used, since the scriptures reminds us of the moment when the Jews leave Egypt, which was full moon as it was told us. Therefore, the first full moon of spring is located to mark the Easter Sunday. After doing this, we just only have to make the countdown of the 40 days. For this reason, it changes so much the date.
Ash Wednesday

It is not a day of precept, nor it is not compulsory to receive the ash, but it is highly recommended to start Lent properly. The ashes are not a sacrament, but a sacramental. This means that everybody, even non-believers, can receive it and its effect depends on the disposition and faith of the person who receives it. This sign is used because early before, when someone repented and went to became converted and confessed, he would be thrown ash over with an attitude of repentance and humility, accepting his fragility...
The ashes that are used this year come from the branches of the previous year Palm Sunday's day. Ash is blessed by priest, but it is not obligatory that the priest himself put it.
Fasting and abstinence

- Abstinence is the deprivation of eating red meat (pork, veal and chicken). Obligatory on Ash Wednesday, Lent Friday's and Holy Friday. All Catholics from 14 years of age (except ill ones) are obliged to comply with it.
- Fasting consists of making only one strong meal per day. Compulsory at Ash Wednesday and Good Friday. Complying with this fasting is compulsory for all Catholics from 18 years to 59 years (except illness ones).
Lent pillars': prayer, fasting and almsgiving

During these days, we must have very clear that it is a moment of conversion and leaving ourselves to look at others. In prayer, we leave ourselves to go to God, fasting is breaking our selfishness and allowing us to educate the passions, while alms and charity allow us to meet others. That is why it is important to live during these days the works of mercy.
Lent´s recommendations 2018
Prayer

Libros recomendados para vivir la Cuaresma día a día.
CUARESMA CON LOS SANTOS PADRES
HABLAR CON DIOS (CUARESMA, SEMANA SANTA Y PASCUA)
EN CUARESMA DIOS NOS PREPARA A LA GRAN FIESTA DE PASCUA
ORAR EN CUARESMA
COMO QUIERAS TÚ
Fasting and abstinence

Libros recomendados para vivir con actitud humilde y arrepentido durante este tiempo litúrgico.
LOS SIETE DOLORES DE LA VIRGEN
VÍA CRUCIS DE LA CONFIANZA
YOUCAT CONFESIÓN
VIA CRUCIS CON EL PAPA CRANCISCO
VIA CRUCIS (SAN JOSEMARIA)
VÍA CRUCIS (PASO A PASO)
GUÍA DE LA CONFESIÓN PARA NIÑOS
Limosna, caridad y obras de misericordia

Las obras de misericordia son la mejor actitud con los demás para vivir la Cuaresma.
LAS OBRAS DE MISERICORDIA
COLECCIÓN OBREAS DE MISERICORDIA
Lectura

Selección de libros que te ayuden con su lectura diária a profundizar en el mensaje de la Cuaresma o en aspectos importantes de esta.
A LA MESA CON DIOS
LA AMARGA PASIÓN DE CRISTO
ANA CATALINA EMMERICK: VIVIÓ LA PASIÓN DE JESÚS
LA PASIÓN SEGÚN SAN JUAN
LA FUERZA DE LA CRUZ
RELATOS A LA SOMBRA DE LA CRUZ
EL VATICINIO DE LA CRUZ
ESTO ES MI CUERPO