A movie about the Sacred Heart of Jesus
An invincible, but unknown force ardently aspires to save the world ... To achieve that, it would be enough with making it known ... With your support, this film will reach all hearts. You dare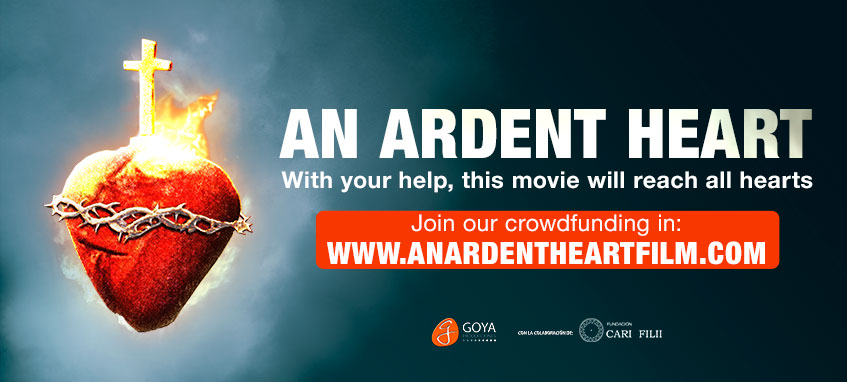 An invincible, but unknown force ardently aspires to save the world ... To achieve that, it would be enough with making it known ... With your support, this film will reach all hearts. You dare?
Today we see that the HATE gains ground among people and families, between regions and nations. The heart of this society does not burn like Jesus'. It is frozen by selfishness, lies, and ignorance. We want to show the world the strength of LOVE. Of an Almighty Love embodied in a human heart. A heart that throbs wanting to dump its happiness in ours.
The new film of "Fatima, the Last Mystery", "Poveda" and "Luz de Soledad" producers, seeks to complete its financing through crowdfunding at https://www.anardentheartfilm.com/
The Sacred Heart wants to inhabit the hearts of the entire World. When he appeared to Blessed Bernardo de Hoyos, he specified: "I will reign in Spain and with more veneration than in other places." By "Spain" it was understood then (eighteenth century) Latin America and the Philippines. In fact, the countries consecrated to the Sacred Heart are about America: Ecuador, El Salvador, Guatemala, Colombia, Nicaragua, Costa Rica, Mexico, Bolivia, Honduras, Chile, Peru ...
Discover what it will be like: Watch video teaser
This film will intertwine a plot of fiction with a variety of facts and testimonies about the Sacred Heart of Jesus. It will be 85 exciting minutes that will end up in an unexpected way opening us the interior of that wounded HEART that lodges all the secrets and all the loves. This film injects optimism. It invites us to contribute to the final victory. But, of course, before we have to produce it ... And you can be part of the team from now on.
It is time to collaborate to make this film a reality. Go to https://www.anardentheartfilm.com/ and discover how you can help.
"It's not just another devotion," competing "with others in fashion," says Andrés Garrigó, director of the film. "On the contrary, the film shows that this Sacred Heart is Love, and from Him it is born the Church, the Eucharist, Mercy, Forgiveness ... And neither does the Heart of Jesus" compete "with that of Mary (Fatima, Lourdes ...), but both hearts throb unisonly and it is the Mother who brings us to the Son. "
To complete the financing of the film, we have launched a campaign to collect funds. This crowdfunding will allow donations of any amount to all those who want to help spread this initiative.
Donations can be made online at https://www.anardentheartfilm.com/or by bank transfer, writting as concept "ARDENT HEART" to the following account:
Telefamilia Foundation
Account: ES14 0075 0349 4206 0037 8257