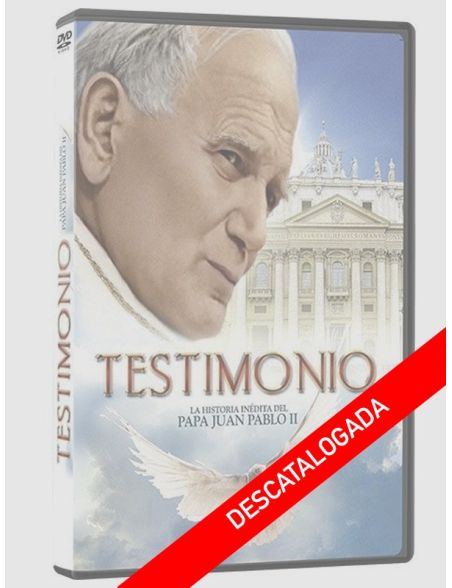  
Testimony: The Untold Story Of Pope John Paul II (DVD)
DVD movie TESTIMONY: THE UNTOLD STORY OF POPE JOHN PAUL II: Testimony is a groundbreaking feature film documentary event that chronicles the untold story of Pope John Paul II, a man who touched the lives of billions, and was one of the 20th century's most influential leaders... read more
Format:

Languages:

Subtitles:
TRAILER

DVD movie:
TESTIMONY: THE UNTOLD STORY OF POPE JOHN PAUL II

SYNOPSIS

DVD movie:
TESTIMONY: THE UNTOLD STORY OF POPE JOHN PAUL II

Testimony is a groundbreaking feature film documentary event that chronicles the untold story of Pope John Paul II, a man who touched the lives of billions, and was one of the 20th century's most influential leaders.

Told through never-before-seen archival footage, historical recreations, and key interviews with the Pontiff's trusted advisor of 40 years, Testimony is an unprecedented look at the private spiritual life and public persona of Karol Wojtyla, a man whose lifelong devotion to God and humanity eventually earned him the title of Pope John Paul II.

Narrated by Michael York and featuring music by Oscar winning composer Vangelis, Testimony was filmed in secret, off-limits corners of the Vatican, and is full of new and fascinating revelations about the Pope. For instance, did you know that...

- Pope John Paul II was stabbed during a second failed assassination attempt that was kept secret by the Vatican...until now.
- Pope John Paul II liked to disguise himself and sneak out of the Vatican to mix with ordinary people.
- The Pontiff began his career as an actor, and had a great talent for Karaoke.
- His Holiness once performed an exorcism.

These are just a few of the fascinating discoveries you will make in Testimony, a once-in-a-lifetime DVD event that can be shared with friends and family for years to come.

MOVIE INFO:

Original title: Testimony: The Untold Story Of Pope John Paul II
Number of discs: 1
Running Time: 97 minutes
Languages: Spanish, English
Subtitles: Spanish
Year: 2009
Genre: Documentary film
Rated: PG.
System: PAL - Zone 2 (Europe...)

Director: Pawel Pitera
Presented: Michael York.