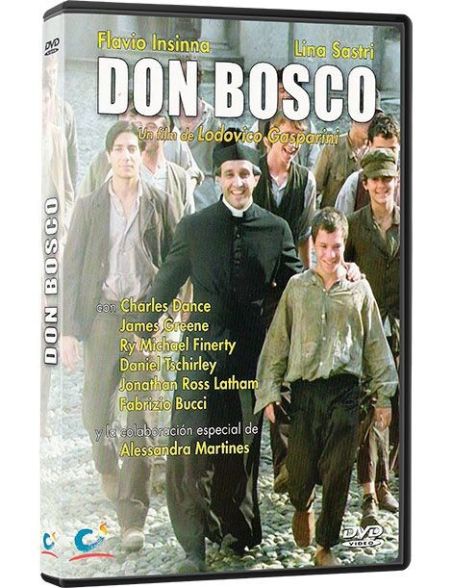  
Don Bosco
DVD DON BOSCO.
The film is based on real life events of Roman Catholic priest John Bosco, the great priest and educator of youth from the tough streets of Turin, Italy… read more
Movie not available in English. To watch English movies, please press HERE
| | |
| --- | --- |
| | Una película imprescindible, no dejes de verla |
Formato:

Idiomas:
TRAILER

 

of the movie on 

DVD:
DON BOSCO

REVIEW

 

of the movie on 

DVD:
DON BOSCO
ARTISTIC AND TECHNICAL
(

Good

)
FAITH AND VALUES
(

Evangelizing

)
RECOMMENDATION
(

Highly recommended

)
PÚBLICO ADECUADO: Young people, the whole family, catechesis.
NUESTRA VALORACIÓN: An authentic catechesis minute by minute. Very good subplot between the characters and an excellent performance by the director.
Do you want to know more about the categories and how do we value them? Please, Click here.
SYNOPSIS

 

of the movie on 

DVD: 
DON BOSCO

The film is based on real life events of Roman Catholic priest John Bosco, the great priest and educator of youth from the tough streets of Turin, Italy.

Beautifully filmed in Italy, this epic movie dramatizes the many challenges that Don Bosco had to overcome from his childhood through founding his religious order, the Salesians, for helping educate boys. Growing up without a father gave him compassion for the many orphans that he cared for, while he faced persecution from both secular society and the Church as he fought to build a place to house and educate the homeless, outcast youth of Turin. His deep faith, creative imagination and profound charity shine through in this wonderful film.

FICHA TÉCNICA:

Título Original: Don Bosco
Número de discos: 1
Duración: 200 minutos
Idiomas: Español
Año: 2004
Clasificación por edades:
Recomendada para todos los públicos
Sistema: PAL - Zona 2 (Europa...)

Director: Lodovico Gasparini
Reparto: Flavio Insinna, Lina Sastri, Charles Dance, Daniel Tschirley, Fabrizio Bucci, Lewis Crutch, Brock Everitt-Elwick, Alessandra Martines, Ry Finerty, Arnaldo Ninchi...
Premios de la película:
• Festival Internacional de Cine Católico Mirabile Dictu 2017: Nominada a Mejor Película
• Festival Niepokalana 2017: Mejor Película
Críticas de la película:
• "El Piamonte (Italia), siglo XIX. En Turín, el sacerdote Don Bosco, un hombre procedente de una humilde familia campesina, se entregó total y apasionadamente a la tarea de recoger de las calles a los chicos marginados y cuidar de ellos. No sólo los sacó de la pobreza, de la ignorancia y del desamparo social, sino que consiguió que, por primera vez, se sintieran amados. Luchó con una fe y un tesón extraordinarios para vencer los obstáculos e insidias que, tanto las autoridades civiles como las eclesiásticas, pusieron en su camino para impedirle culminar su objetivo: la fundación de la Congregación de los salesianos, que garantizaría el futuro de sus chicos." (FILMAFFINITY)